Business
Most Successful Businesses in Pakistan with Massive ROI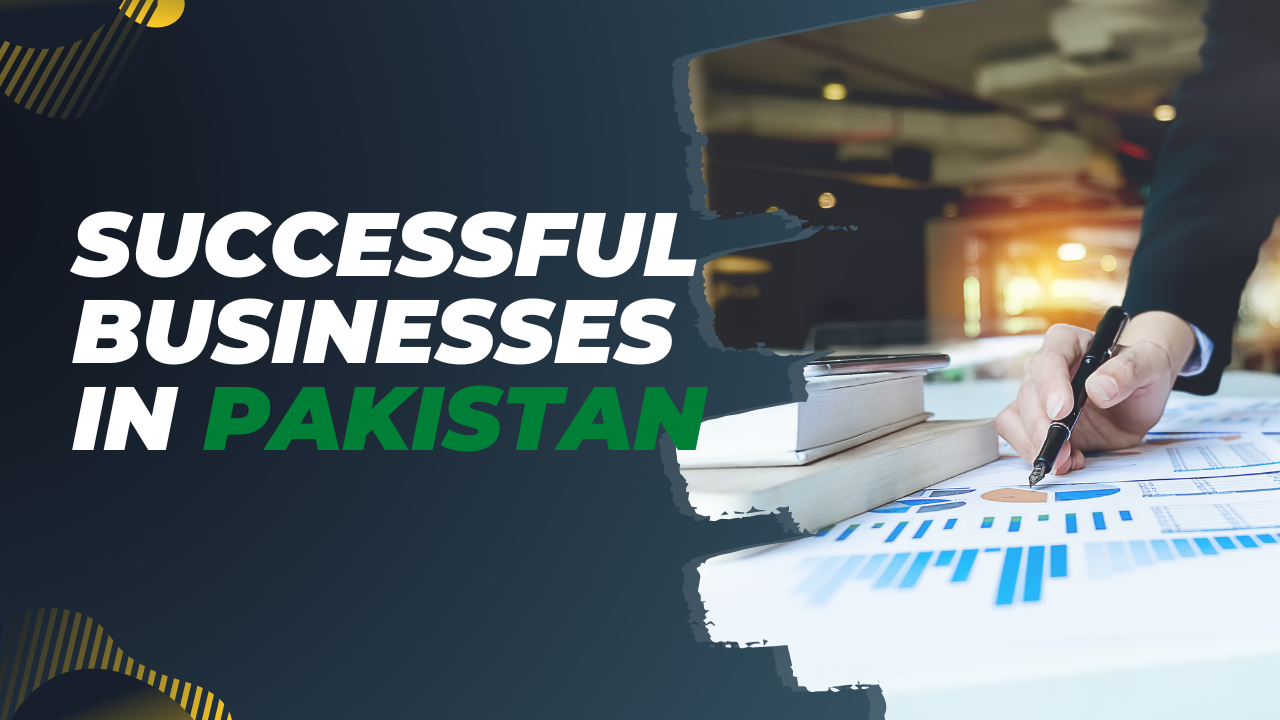 Business refers to a firm or corporation that produces, manufactures, and exchanges products or services to make a profit.
There are many new business opportunities for the people of Pakistan given the number of competent and bright individuals, even though certain businesses are booming and generating great revenues. Almost 80 million middle-class customers and Pakistan's growing population are strong forces that can make Pakistan's creative business ideas successful.
However, you may always choose a business endeavor to free yourself from the inconveniences of monotonous 9 to 5 working hours. Finding micro business strategies in Pakistan, meanwhile, may be simpler when taking into consideration the economic forecasts. It is essential to know the country's present economic situation before establishing any business.
Return on investment (ROI) for a specific firm and market need for what it offers as a business. The demands and preferences it meets, or the solution it offers to a particular circumstance, are both necessary for a business to be successful.
Pakistan can also assist emerging firms to perform their global competition by providing high-quality products and services at affordable prices.
Before beginning any small business in Pakistan, you must take into account and pay attention to market variations.
List of Successful Businesses in Pakistan
Here, the most successful businesses of Pakistan are discussed in detail.
Business of Medicines
According to recent statistics, 220 million people are living in Pakistan. To fulfill the medicinal needs of 220 million people, the role of the pharmaceutical industry is very crucial. That's why the medicine business might be considered Pakistan's most thriving business industry.
Depending on a variety of factors, including the type of medication you produce, consumer demand, competition in the market, consumer perceptions, commercial value, governmental taxes, etc., you can start making anywhere between 30% to 70% in the pharmaceutical industry.
People all over the country are suffering from diabetes mellitus and, primarily, hypertension as a result of poor lifestyles. Anti-allergic drugs are increasingly in demand.
The need for medicine may rise in response to certain viral and disease epidemics, especially during the winter and fall months. This is the reason that the medicine business is successful in Pakistan.
Clothing Stores
There are 220 million people in Pakistan. In Pakistan, the most important and popular industry is clothing. Like medicine, the commercial clothing industry has a very high return on investment, but it doesn't mean wholesale, distribution, and production don't have anything to contribute. Online boutiques and garment stores made considerable earnings throughout COVID-19.
This advantage is also enjoyed by Pakistanis living abroad and making it an asset with the highest return possible. Return on Investment in the clothing business must be at least 40% to 60%.
Food Business
The food culture of Pakistan is well-known and famous worldwide. Just like in medicine, the food industry offers a very high ROI.
The worldwide Muslim population, which now makes up 1/4 of the world's population, is the main force behind the market for ethical and halal food items.
Nowadays, you can also establish an online meal delivery company in Pakistan because the rise of technical skills and COVID-19 has increased the availability and need for door-to-door commercial business concepts, particularly those involving food delivery.
If you would like to set up preparing meals at home, it is also popular and costs little money. The demand for home-cooked food is high because of the increasing knowledge of healthy eating.
Return on Investment fluctuates between 30% to 70% for both tiny businesses, such as finger chips shops, and larger ones, such as standard restaurants and gourmet food enterprises.
Grocery Store
Pakistan's most commercial and famous business is the Grocery store business which involves retail, wholesale, and distribution.
Selling anything from cooking oils and veggies to cosmetics and soaps in your store at wholesale, retail prices, etc., may also provide you a great opportunity to have a reliable and consistent source of revenue without taking on too much risk. Return on Investment (ROI) ranges from 10% to 50%.
The volume of traffic that comes into the store is essentially the only factor that determines whether or not a business will succeed. As a result, you should begin this kind of enterprise in a highly populated area.
Real Estate
Real estate is a secure kind of investment. People purchase property, particularly land, then leave for a while. The cost of the property rises with time.
Real estate is at the top of the finest businesses in Pakistan. Purchasing a piece of property is the primary step in real estate investment. Any size of the land is acceptable, including residential, agricultural, and commercial land. As the concept of smart cities is so successful and it is more beneficial.
The real estate business has become increasingly important for the growth of the economy. An investment in real estate typically yields profits between 12% and 30%. This is roughly three times what you typically receive from banks.
Agriculture/Farming
Almost 19 percent of Pakistan's GDP is supported by the agriculture sector. So, the agriculture business is vast and ever-growing. The fertile soil of Pakistan and its four distinct seasons encourage the growth of a wide diversity of vegetation.
The agricultural industry has grown to fulfill and address the needs of the 220 million population of the country and issues related to high-technology farming as the marketplace has become more international and technology has also become advanced. Return on Investment (ROI) ranges from 20-40% in the agriculture business.
The major sources of raw materials are agriculture. It supplies raw materials including timber, cotton, wool, seeds, sugarcane, and other things. Several commercial businesses also use raw materials.
Smartphones & Accessories
Nowadays, as usage of smartphones is increasing day by day. Out of the 220 million population in Pakistan, 68% population is using smartphones. This business is very beneficial in Pakistan.
If you lack the necessary abilities to build this business. Simply purchase a few different kinds of mobile phones as well as mobile accessories like screen protectors, hands-free, and mobile covers in bulk and resell them with a profit.
Return on Investment (ROI) here ranges from 5% to 30%. And for this reason, more and more individuals are interested in opening up a mobile business. As 20 percent of mobile retail stores appear to be successful business owners in Pakistan.
Smartphones and accessories are in strong demand, with a comparatively good ROI and significant sales. You only need to think about
• The precise address of a company
• Sufficient investment
• Appropriate time and strategy
• Effective management