Travel
10 Best and Most Beautiful Places in Pakistan
Pakistan has a rich, diverse culture, beautiful landscapes, and vibrant history. Pakistan has a diverse range of attractions, from the majestic Himalayan mountains to the picturesque beaches of the Arabian Sea, making it a destination that caters to all interests. In this article, we will explore the ten best and most beautiful places in Pakistan that you should visit.
Hunza Valley
Hunza Valley is a spectacular destination located in the northern regions of Pakistan. It is considered one of the country's best and most beautiful places, attracting visitors from all over the world. The valley surrounds tower mountains, including Rakaposhi, Ultar Sar, and Hunza Peak, which add to the area's natural beauty.
The local people know for their hospitality and unique way of life. The valley is home to several historic forts, including Altit and Baltit, which give visitors a glimpse into the region's past.
Lahore
Lahore, the cultural capital of Pakistan, boasts a wealth of attractions, including historical landmarks, stunning architecture, and delectable cuisine. Visitors can marvel at UNESCO World Heritage sites like the Badshahi Mosque, Lahore Fort, and Shalimar Gardens.
Badshahi Mosque, built in 1673 by the Mughal Emperor Aurangzeb, is one of the largest mosques in the world and an architectural marvel. The mosque's red sandstone walls and white marble domes are a remarkable sight.
Islamabad
Did you know that Islamabad is Pakistan's capital city and considers one of the most stunning cities in the country? It's gorgeous scenery, organized infrastructure, and peaceful environment make it stand out. Islamabad has a beautiful location at the foot of the Margalla Hills, which adds to its charm. The top attractions are the Faisal Mosque. It is the biggest mosque in Pakistan that can hold up to 100,000 worshippers at once. Its distinct architecture and design make it a favorite tourist spot.
Skardu
Skardu is a picturesque town located in the Gilgit-Baltistan region of Pakistan. Surrounds by snow-capped mountains, clear lakes, and lush green valleys, Skardu is considered one of the most beautiful places in Pakistan. The town is famous for its scenic beauty, adventure tourism, and rich culture.
One of the main attractions of Skardu is the Shangrila Resort, located on the banks of Lower Kachura Lake. The resort offers breathtaking views of the lake and surrounding mountains and is a popular tourist destination. Another destination in Skardu is Satpara Lake. It is located 2,636 meters above sea level. Towering peaks surround the lake, a popular spot for boating and fishing.
Swat Valley
Swat Valley is one of Pakistan's most picturesque and beautiful places, located in the Khyber Pakhtunkhwa province. The valley is known for its breathtaking natural beauty, clear rivers, lush green forests, and snow-capped mountains.
The valley has a rich history and is home to several ancient Buddhist stupas and monasteries. The famous Malam Jabba ski resort locates in Swat Valley, which attracts skiing enthusiasts from all over Pakistan.
Karachi
Karachi, the largest city in Pakistan, is a hub of cultural and historical landmarks that attract tourists worldwide. It is famous for its stunning beaches, contemporary architecture, and lively streets. Among the top attractions to explore are the Quaid-e-Azam House Museum, Mohatta Palace Museum, Frere Hall, and the National Museum of Pakistan.
One of Karachi's most popular tourist destinations is Clifton Beach. It offers a scenic view of the Arabian Sea and a range of fun activities. It is horse riding, camel riding, and beach volleyball. The Karachi Zoo, located in the city's heart. It is a must-visit attraction, where visitors can see various exotic animals and birds.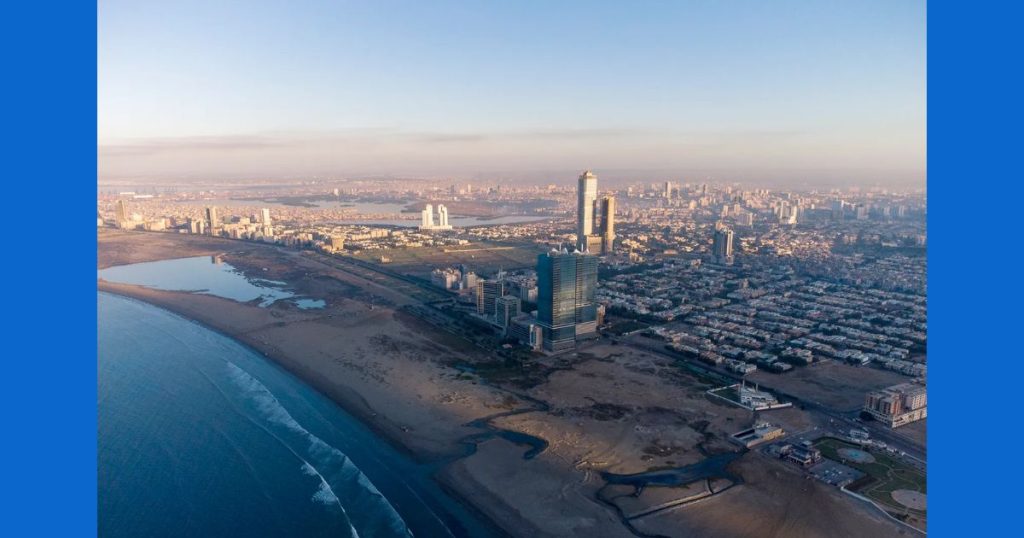 Naltar Valley
Naltar Valley Pakistan has stunning places, located in the Gilgit-Baltistan region. The place is renowned for its mesmerizing natural beauty, which includes serene lakes, lush green forests, and towering snow-capped peaks. The Naltar Valley has a winding road with gmagnificent views. The turquoise blue Naltar Lake is a popular attraction with calm waters for fishing, boating, and picnicking. The valley is famous for its ski resort, which attracts skiers and snowboarders worldwide.
Rawalpindi
Rawalpindi is a cultural city in Pakistan with historic landmarks and scenic beauty. One of Rawalpindi's most famous tourist attractions is the Pakistan Army Museum, which highlights the country's military history and culture. Other popular places include the Rawalpindi Cricket Stadium, Raja Bazaar, and the Rawalpindi Arts Council. Read about Top 8 Successful Entrepreneurs of Pakistan now.
Peshawar
Peshawar is in the Khyber Pakhtunkhwa province of Pakistan. It is best for its rich cultural heritage and historical significance. The city boasts several iconic landmarks like the Peshawar Museum, the Qissa Khwani Bazaar, and the Bala Hisar Fort.
The city has a vibrant market culture, with bustling bazaars offering a variety of traditional handicrafts, spices, and textiles. The Namak Mandi market is famous for delectable meat dishes.
Chitral
Chitral, located in northwestern Pakistan, is a beautiful region known for its stunning landscapes, rich cultural heritage, and warm hospitality. The district surrounded by the towering peaks of the Hindu Kush mountains and is home to numerous valleys, rivers, and glaciers.
The Kalash Valley in Chitral is a renowned tourist spot famous for its unique culture and customs. The Kalash people, the Great's descendants, have a distinct language, religion, and traditions, setting them apart from the rest of Pakistan.
Conclusion
Pakistan has a rich, diverse culture, stunning natural beautiful places, and vibrant history. The country is home to several iconic landmarks, ancient shrines, and archaeological sites worth exploring.