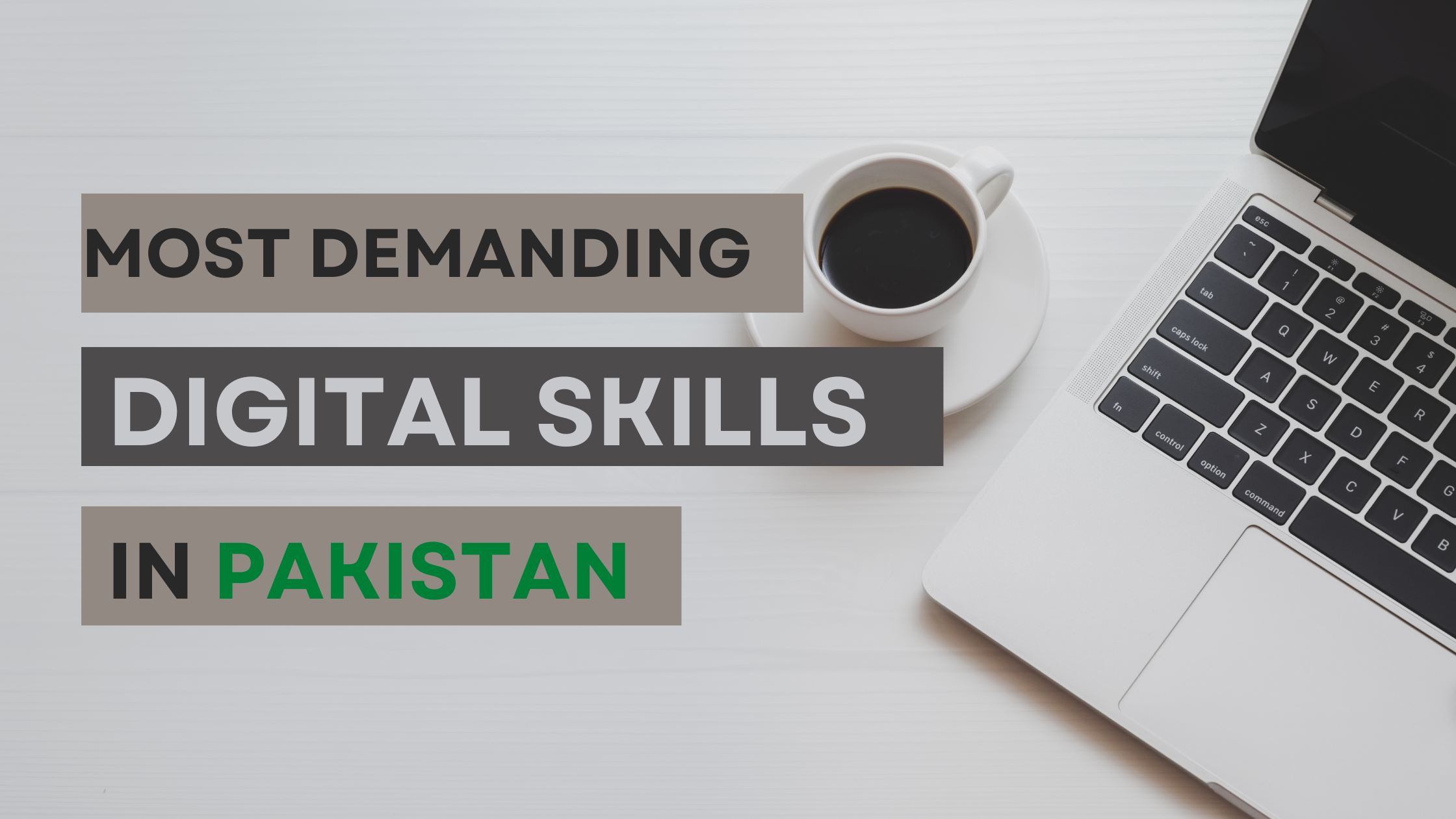 Over half of the world's population makes use of the internet. People must have the proper digital skills in the electronic era. In Pakistan, the distribution of these digital skills between males and females is equal.
In Pakistan, where the world's largest labor force is present, it is difficult to offer enough chances for good jobs. Pakistan is the 6th most populated country in the world with an 8.5 % rate of unemployment for youth. In Pakistan, where the world's largest labor force is present, it is difficult to offer enough chances for good jobs.
That's why, the emerging generation must need the right schooling, knowledge, and technical abilities to succeed in their careers.
In Pakistan, online services are becoming more advanced. That's why the need for technically skilled persons is also increasing.
Why is the demand for digital skills rising in Pakistan?
In 2019, Pakistan (along with the entire world) fought the pandemic crisis and stop the disease from spreading further, Lockdown was imposed throughout the country due to the global outbreak of COVID-19, and mostly, all businesses were closed. As a result, most individuals lost their ideal jobs. For this reason, almost all business owners have shifted their business online to run their business in this pandemic situation.
Nowadays, having digital skills is a mandatory requirement in growing business markets, especially in Asia. Digital skills are a driving force for those people who are interested in working from home.
5 Most Demanding digital skills in Pakistan
In the field of digital skills, an individual can freely offer their services to clients without asking for assistance or relying on any resources belonging to a 3rd party that normally charges a fee. In this blog, we'll share the most demanding digital skills that are contributing to growing Pakistan.
1- Web Development
Web developer employment is predicted to rise by thirteen percent between 2021 and 2030, which is very fast than any other technological field.
Without any doubt, the web development sector is growing quickly due to the rapidly rising number of users of the Internet. Web development is commonly called website development and the developers of these websites are named website developers.
Website designing, e-commerce development, website content creation, and website security configuration are all included in the web development procedure. Web developers deal with the coding and basic markup of the websites.
2- Graphic Designing
In Pakistan, there is a significant amount of opportunity for graphic design to work for numerous companies. This digital skill is a major earning skill in Pakistan and globally.
"Graphic design is the practice of using text, pictures, and other visual elements to express concepts to a target audience to achieve a particular goal".
Graphic design uses images and posters to convey specific concepts or messages. These images might be as unique as a company logo or as sophisticated as website page designs. Graphic designers use text, color, and imagery to engage visitors. It's a method of communicating concepts via image and art.
Most graphic designers use advanced tools to create specific and unique designs and achieve their goals assigned by the clients.
Graphic designers are aware of all the basic principles of designing that assist in making creative and eye-catching designs for different companies.
3- Digital Marketing
According to Pakistan statistics, demand for digital marketing specialists is expected to increase in the future. In Pakistan, the demand for training institutes for digital marketing also increasing.
The digital marketing sector has a significant impact on business growth and professional career growth. More than seventy percent of the Pakistani population uses electronic media to communicate with best friends and loved ones and also access social media networks and the internet according to their requirements.
Digital marketing is a type of advertisement that uses electronic media. You can develop your intellectual ideas and technical abilities to establish a successful career by enrolling in a class on digital marketing. To boost sales and increase customers, business owners are focusing on digital marketing tactics.
Digital marketing is the best option at the moment if you aspire to select a professional career that will grow in the upcoming years.
4- Content Writing
In Pakistan, there is currently a huge demand for content writer professionals, and this need will continue to grow.
The procedure of developing, creating, editing, and reviewing the website data is known as content writing, and it is often done for digital marketing goals. Businesses may use creative content to engage customers and build strong relationships with their consumers to increase their business sales.
Some content writers create long-form professional work for magazines, while others who are more business-minded write screenplays for brand content, such as podcasts or videos. Companies must create very informative and interesting content for their clients. For this purpose, companies hire professional and creative content writers.
Content writers work in different niches and different formats such as:
Blog writing
Article writing
Writing Newsletters
Writing for a specific website on a specific niche
Writing for product reviews and description
5- Search engine optimization (SEO)
In Pakistan, the most important and demanding digital skill is search engine optimization (SEO). Nowadays, every business needs to increase sales and profit. That's why SEO is the primary tool to boost your business sales and important in digital marketing.
The industry of search engine optimization is diverse and dynamic. Most people who know the SEO benefits used it in business projects and digital marketing strategies.
SEO refers to the procedure of making improvements to your website to boost website traffic. SEO enables you to appear in more search results when users search for things or services relevant to your company on search engines. SEO refers to all the activities you carry out to influence search engines like Google to view your website as a reliable site and rank it higher for the targeted search keywords you want.
Search engine optimization is important to enhance visitors to the website and it works. Search engine optimization also helps the website to appear in valuable searches and rank in the Google search. Google seeks out web pages with reliable, useful data related to user queries.