News
Top Trending Google Searches in Pakistan in 2022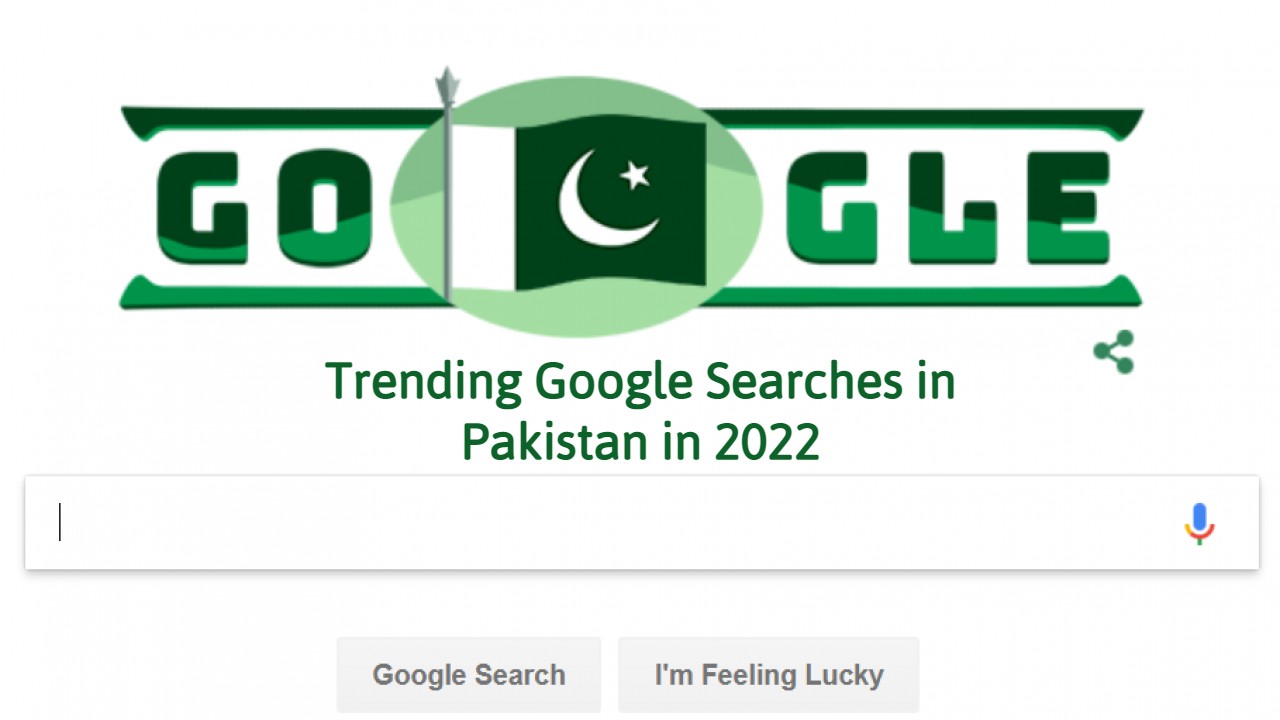 Google Search is an online search engine, developed by Google LLC. It is the most used search engine on the World Wide Web and is one of the most powerful and versatile tools available to internet users today. With its ability to provide you with almost any information you need about a particular topic or person in seconds, it's easy to see why so many people rely on Google Search for their everyday needs.
This is the reason, Google is the most commonly used search engine in Pakistan. Google has recently released a list of Top Trending Google Searches in Pakistan in the last 12 months (2022) as part of its annual "Year in Search" which shows what Pakistani was looking for during the calendar year.
Benefits of using Google search
Google search is a powerful tool that can be used to find information quickly and easily. It has the ability to help you save time by providing access to vast amounts of content from all around the world. One of the main benefits of using Google search is its ability to narrow down and accurate results based on specific criteria or keywords. This means that instead of wasting time sifting through pages of irrelevant results, you can easily find what you're looking for by typing in your query.
Google Search Trends in Pakistan
Google Search trends can provide useful insight into the interests and concerns of people in a particular region. In Pakistan, for example, Google searches can provide insight into the topics that people are most interested in and can help inform marketing and public policy decisions. This also helps businesses, marketing professionals and individuals understand the current trends in different industries.
Top Google Search Queries in Pakistan in the last 12 months
Below we will share the top Google search queries performed by Pakistanis in last 12 months (2022).
Asia cup 2022
Asia cup
Asia cup schedule
FIFA world cup 2022
T20 world cup
Asia cup 2022 schedule
PSL 7+2
Netherlands vs Pakistan
oppo f21 pro
Pak vs SL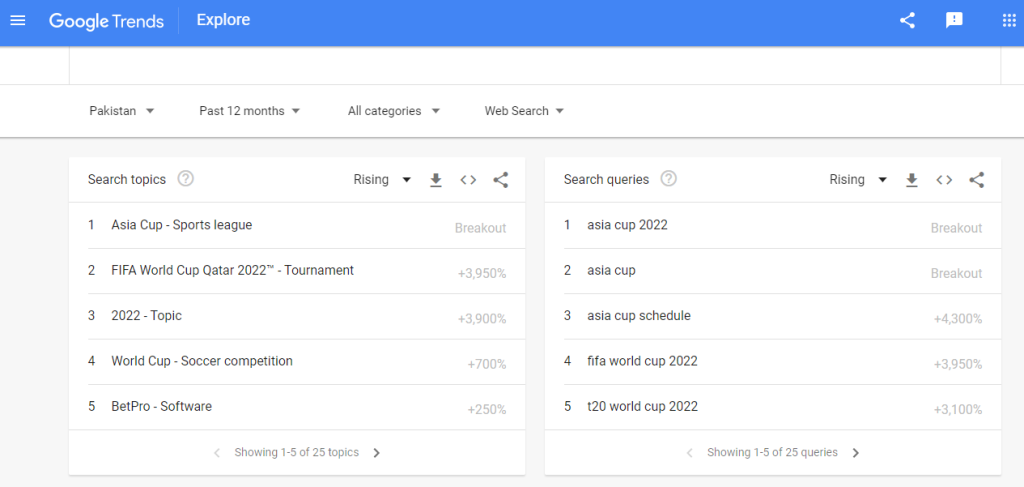 Top 10 People Searched on Google in Pakistan in 2022
Here are the 10 most searched people on Google in Pakistan.
Naseem Shah
Pervez Musharraf
Salman Rushdie
Iftikhar Ahmed
Mohammad Rizwan
Shahbaz Sharif
Shadab Khan
Amber Heard
Azhar Ali
Imran Riaz Khan
Top 10 News Searches in Pakistan in 2022
As Google is one of the best sources of online information and news, people usually search on Google to confirm news or information they come to know. Below are the top 10 news searches in Pakistan searched on Google in 2022.
Aamir Liaquat
Ukraine
Imran Khan
Murree
Fatima Tahir
Arshad Sharif
Pervez Musharraf
Salman Rushdie
Iqrar ul Hassan
Sri Lanka
Top 10 Tech Gadget Searches in Pakistan in 2022
As Pakistan is one of the leading IT services export countries, people also search on Google to learn about the latest tech news, gadgets, and tools. Here are the ten most searched tech terms in Pakistan throughout 2022.
Vivo V23
iPhone 14 Pro Max
Oppo F21 Pro
Vivo Y21
Vivo V23e
Realme C35
Infinix Note 12
Infinix Hot 12
Samsung A32
Oppo A16
Top 10 Movies and TV Shows Searched in Pakistan in 2022
For entertainment, online users also use Google search to find trending and popular movies and TV shows. Below are the 10 most searched movies and TV shows searched on Google in Pakistan.
Maula Jatt
Ms. Marvel
Black Adam
Thor Love and Thunder
Doctor Strange
London Nahi Jaunga
The Batman
Quaid-e-Azam Zindabad
Sinf-e-Aahan
House of the Dragon
Google search is a reliable online source of updated information and news. As we have shared the Trending Google Searches in Pakistan in 2022, you can visit Google trends to watch out for trending searches for any desired country, state or region.